The Alcoholism & Addiction Cure
---
"I know your struggle; I know your heartache. I have seen the rending of families, the suffering, the tragic endings, and I have seen the wonder of transcendence over it all. This book is dedicated to you who seek freedom from addiction for yourself or a loved one."
The book has been gifted to or purchased by more than a quarter of a million people. Several years ago, I checked into a hotel in Florida, and the woman who checked me in saw my driver's license and exclaimed: "Oh! You're Chris Prentiss! My husband read your book nine years ago, and he's been sober ever since." It warmed my heart.
Definition of Cure:

A complete restoring to a sound or healthy condition, a healing.
"Reading The Alcoholism & Addiction Cure will provide you with the tools to treat your addiction and will change your outlook from one of despondency and hopelessness to one of hope and joy. Your part is to supply the courage and the dedication needed to restore yourself to the healthy, happy person you once were, even if that time was only brief. You are fully capable of doing that. It takes a complete desire to leave your addiction in the past so your future can be free to be fully embraced and enjoyed in whatever time remains for you on our lovely little planet. Every year, millions of people who are addicted quit, even without treatment. You or someone you care about can be one of them. I wish you good fortune. Be confident; stay strong!"
– Chris Prentiss, Author of The Alcoholism & Addiction Cure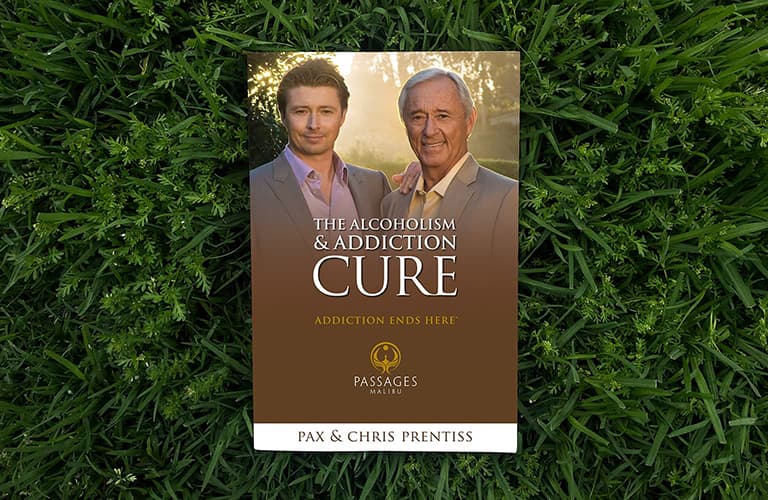 Get Your Free Copy
For a limited time, get your free copy of The Alcoholism & Addiction Cure. Just pay shipping.
The Book's Nine Inclusive Chapters:
---
My Pledge to You
Healing the Underlying Causes
To Hell and Back (Pax's story, written by him)
Changing the Treatment Paradigm
The Four Causes of Dependency
Believing a Cure is Possible for You
Creating Your Holistic Recovery Program
Your Personal Philosophy
The New Chapter in Your Life
Substance abuse can enslave a person. No one knows this better than Pax and Chris Prentiss. For over ten long, turbulent years Pax was addicted to heroin, cocaine and alcohol. Some would say he was doomed, that his condition was forever and his fate sealed. Others may have given up on Pax, but his father Chris refused to let the drugs consume his son. After many failed attempts through treatment centers advocating 12-Step programs and a superficial view of addiction, Pax and Chris knew they needed a real, lasting solution. What they found changed their lives forever. In searching for the underlying causes of Pax's addiction and healing them, Pax was finally able to achieve total sobriety. But this achievement wasn't limited to just abstinence – he also was able to reclaim his health and his life. Today, Pax is CEO and co-founder of Passages.
From their experiences, both Pax and Chris adopted a refreshing attitude that allowed them to successfully and completely break through fatalistic perspectives of addiction. They designed a rehabilitation program based on what they knew would lead others to recovery: aim high, reach high. Their healing center appreciates the individual differences among people and utilizes a dynamic approach to treatment and to comprehensively address the underlying personal issues which cause a person to use. By empowering those who falsely believe they are powerless, both the treatment center and The Alcoholism & Addiction Cure facilitate nothing short of a transformation.