Passages Malibu is Accredited by The Joint Commission
---
At Passages, we uphold and honor our commitment to providing the highest level quality of care. Our facility has passed all of the standards by the Joint Commission showcasing that we do provide safe and valuable treatment. It is an honor to be awarded the Joint Commission's Gold Seal of Approval.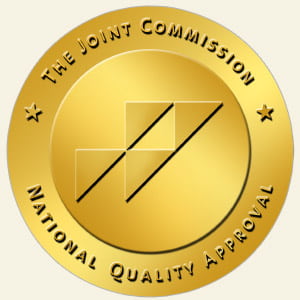 The Joint Commission's
Mission Statement
---
To continuously improve health care for the public, in collaboration with other stakeholders, by evaluating health care organizations and inspiring them to excel in providing safe and effective care of the highest quality and value.
What is The Joint Commission?
The Joint Commission was founded in 1951 as a non-profit organization that continuously helps improve the quality of health care offered to the public. The organization is governed by 21 board members that include physicians, administrators, educators, nurses, and innovation experts. Together, they help see that rehabilitation centers, behavioral health care centers, and laboratory facilities operate at an optimal and effective capacity where safety and the best value in health care are set across all areas of practice.
The Joint Commission's Vision: All people always experience the safest, highest quality, best-value health care across all settings.
Why this is a Valuable Accreditation to Have
An organization that holds accreditation with the Joint Commission is one that has shown and proven the highest level of quality care. At Passages Malibu, we are honored to hold this accreditation.