How Much Does
Passages Malibu Cost?
---
Passages Malibu is a luxurious drug and alcohol rehab center located in Malibu, California that offers innovative non-12 step addiction treatment programs with state-of-the-art amenities. As the most prestigious luxury rehab center in Southern California to ever be accredited by the Joint Commission, Passages Malibu typically costs more than our other facilities in Ventura, Beverlywood, and Santa Monica. What many people may not realize is that Passages accepts most insurance policies to help cover the cost of treatment. To receive a free quote on our exclusive rehabilitation program at Passages Malibu, please call us at any time. Admissions specialists are always standing by to answer any questions you may have.
Although the cost of treatment at Passages Malibu is more than our other rehab centers such as the facilities located in Ventura, Santa Monica, and Beverlywood, the treatment is quite similar but with more focus on one-on-one therapy in a deeply tranquil setting with tight security on our 10-acre property. The other Passages rehab centers do offer similar therapy methods– including chemical dependency counseling, marriage and family therapy, acupuncture, massage, yoga, physical fitness, and meditation – all at a lower cost. Both outpatient therapy and aftercare programs are available at our other locations (with Ventura offering inpatient rehabilitation as well), and Santa Monica also offers additional treatment options in the form of a highly structured Sober Living Environment.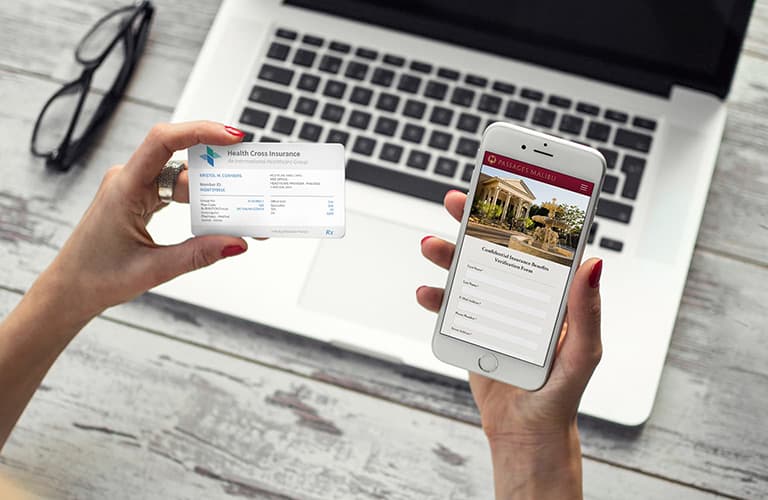 Insurance Accepted
Health insurance can help cover the cost of addiction treatment. Quickly and confidentially verify your benefits online with no obligation to apply.
Whether you need residential or outpatient drug and alcohol rehabilitation, non-12 step holistic treatment methods are available for you at Passages Addiction Treatment Centers. Although we can't disclose the specific costs for each center here, as the price does vary depending on the program you choose, length of stay, insurance coverage, and type of suite, we can say that we are confident no matter which Passages program or facility you choose, you will be in good hands to receive the best care available today.
If you or a loved one is ready to get sober and begin living a healthy, stable, and fulfilling life, Passages is the perfect place to begin. We welcome you to call us today to learn all about our many treatment options and find out how you experience truly remarkable transformation at Passages Addiction Treatment Centers.