Alcohol Addiction Treatment Program at Passages Malibu
---
The alcohol addiction treatment program at Passages Malibu is the most well-respected and scientifically advanced treatment program in the world. One of the many reasons our program is so successful is our highly developed treatment philosophy. We believe that addiction is not a disease. Instead, we believe that it is caused by unresolved personal problems. To heal these problems, we use a specialized treatment program that focuses on one-on-one therapy.
Most treatment centers continue to use the outdated group approach, and we believe this is why they have such a high relapse rate. In 2001, Passages decided to change the treatment model, offering people what they need to get better: one-on-one therapy. Our one-on-one approach is simply revolutionary. It's changing the way people heal, and its why people come to Passages. Our results speak for themselves.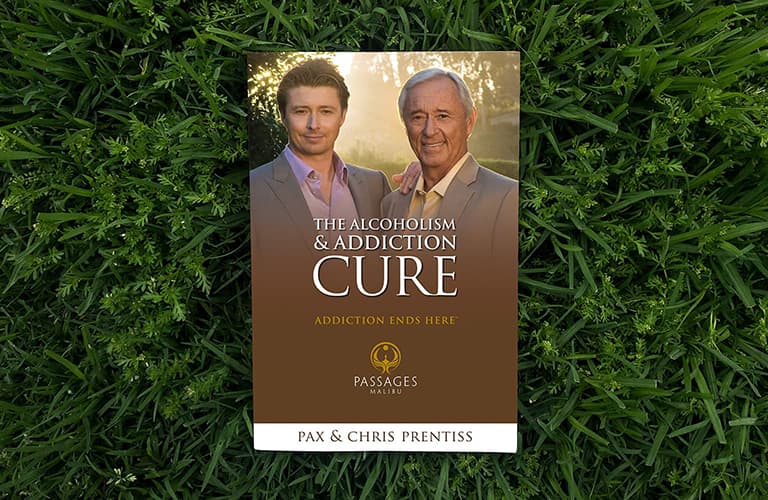 The Alcoholism &
Addiction Cure Book
Receive a free copy of "The Alcoholism and Addiction Cure" by Pax and Chris Prentiss today. This book will help show you how to break free from the cycle of addiction and live a life you can feel proud of.
The Passages treatment program is different. It's not a cookie cutter program. When you check into Passages, you will begin working with a treatment program specifically is designed for you. You will have your own private team of therapists who will redesign your treatment program each week so that your needs are always met. As you progress, so does your program. There are so many reasons why Passages has the best alcohol treatment program in the world.
Here are just a few of them:
24 hours a day, 7 days a week nursing
10 therapists assigned to you
65 hours of one-on-one therapy
5 beautiful estates to choose from
10 pristine acres of Malibu coastline
Rated the number 1 treatment center in the world
JCAHO Accredited